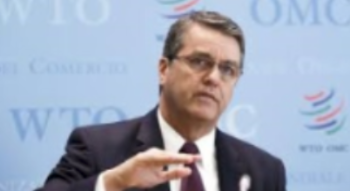 Roberto Azevedo, head of the World Trade Organization (WTO), warned in a London speech on Wednesday, October 17th, that escalating trade wars "pose real risks" to the global economy, potentially threatening millions of jobs,. In theory, the goal for American tariffs is to negotiate lower tariffs or eliminate them altogether.
Over 50 percent of the U.S. tariffs on Chinese imports are on intermediate goods, parts and materials used to make finished U.S. products. This means that production costs have dramatically increased for small and mid-sized businesses.
WTO economists calculate that as China, the EU, Canada, Mexico, and other countries respond in kind to American tariffs, global trade growth will decline by 17 percent, which will result in overall global economic growth slowing by 1.9%.
Mark Lohsen
Executive Director, Global Chamber Charlotte