CONGRATULATIONS to all of the student teams who participated in Global Chamber® San Francisco's (GCSF) inaugural Global Case Challenge 2016, an international student ideation and business pitch competition, which was held on November 10-11, 2016 in San Francisco.

Students were asked to pitch an innovative idea, solution, and new venture which could uniquely address a particular global or local issue. An esteemed panel of judges evaluated each team's pitch and ideas, focusing on the type of problem students were trying to solve, the presentation, business viability, and other factors. The judges were pleased with all of the student teams' performance, passion and preparation.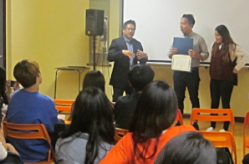 TOP Prize went to Team "Life Chair" from South Korea. The co-founders Jin Seok Ha and Hee Won Jin are biomedical engineers from Yonsei University in South Korea. The team created an innovative and proprietary product design for a combo chair & personal flotation device. They were inspired to develop the product in the aftermath of the recent ferry tragedies in Asia. The judges were very impressed with the team's presentation, product design, bold vision and potential for considerable social impact. With their 1st place finish, Team Life Chair wins a very special prize: lunch with legendary Silicon Valley venture capitalist Tim Draper, founder of Draper Associates, DFJ and the Draper Venture Network, a global network of venture capital funds. Wow! Congratulations to Team Life Chair!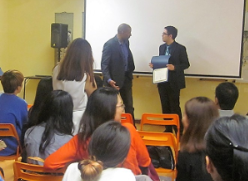 SECOND Place went to Team "CarbonCraft", led by San Jose State University (SJSU) student Matthew White. The Team is developing a unique and timely online gaming and education platform focused on climate change, environment, and sustainability issues. The platform will offer a one-stop-shop for apps and games developed by both CarbonCraft and external developers. The proprietary software platform will also provide a teacher dashboard, in-game assessment, multiplayer support, and other functionalities. As the runner-up, Team CarbonCraft won an amazing externship opportunity with Silicon Valley startup EVAOS, which develops, builds, and sells innovative vehicle add-on systems that upgrade light-duty and medium-duty trucks into plug-in hybrid and all-electric vehicle. EVAOS currently offers upgrades for Ford F-150, F-250, and F-350 pickup trucks. Congratulations to Team CarbonCraft and thank you EVAOS CEO Richard Simpkins for coming out and presenting the special award to the team!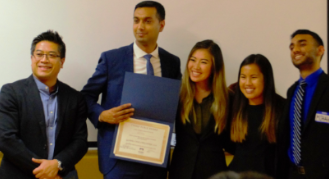 THIRD Place was awarded to Team "H2fl0w", comprised of students Michelle Vu, Manpreet Singh, Kent Tran, Mohak Rastogi, and Emilie Wang from San Jose State University. Team H2fl0w is developing an innovative water conservation and sensor-based product solution, which will allow home-owners to more effectively monitor water usage at each outlet. The judges were very impressed with the team's presentation and efforts to tackle a very important problem that is highly relevant in the SF Bay area. For their achievement, the team was awarded career counseling, coaching & preparatory sessions with Randstad Professionals. The team will gain invaluable insights and guidance from Randstad and learn how to more effectively market and position themselves in the marketplace. Congratulations to Team H2fl0w!
Congratulations to all of the students who participated in our Global Case Challenge 2016. It was a fantastic event that showcased some of the brightest students and future business leaders with a desire for global impact. All of these students show great promise and have a bright future ahead.
Thank you to all of the local companies, professionals, executives, and entrepreneurs, whom collectively generously offered great prizes and their valuable time and resources to support these students and this event.
A special THANKS goes out to Tim Draper, EVAOS, Randstad Professionals and SLUSH for the generous and amazing prizes; our partners Silicon Valley Institute, uBegin, StartupHouse, apiNXT, SLUSH and Treehouse Space; the esteemed panel of judges; our sponsors, Board, & members; and of course all of the academic officials and students in attendance for making this event such a great success. We are thrilled with the outcome and look forward to the next Global Case Challenge in 2017!